At Alarm.com, we're always working to bring the latest connected technology into the millions of
smart, secure homes
we power. One way we do this is by partnering with the very best device manufacturers to integrate new devices into our cloud platform.
For example, we support
smart locks from Kwikset, Schlage and Yale
,
video doorbells from SkyBel
l and an array of touchscreen security panels, all deeply integrated into Alarm.com's platform so that they're easy and intuitive to use. This approach means more choice for our service providers, better enabling them to customize a smart home for any family's needs.
It also means we get to talk about new, exciting integrations like these – all of which are currently on display at our ISC West booth right now, and
coming to Alarm.com in the near future.
1:
Go Slim Line on Front Door Security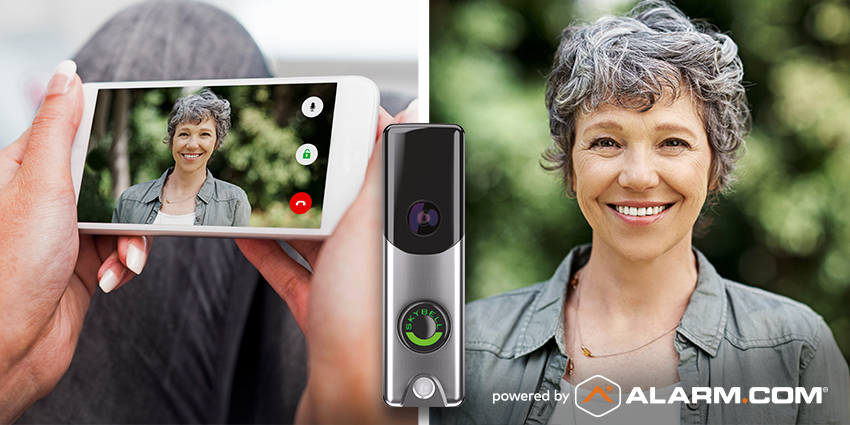 It's just half the width of the HD model, but the forthcoming Alarm.com Slim Line Doorbell Camera (pictured right) packs just as much awareness, convenience and security into the package.
Completely integrated into your smart home security system, it will show you who's at the door in live video, and let you have a two-way conversation through your app. If your system includes a smart lock, you can unlock it from your doorbell screen.
Which version will best complement your front door?
Live safe. Live well.
Experience total protection with customized, professionally installed security and a home that works intuitively to keep you safe.
Discover Alarm.com for Home
2: Enhance Your Favorite Scenes with Music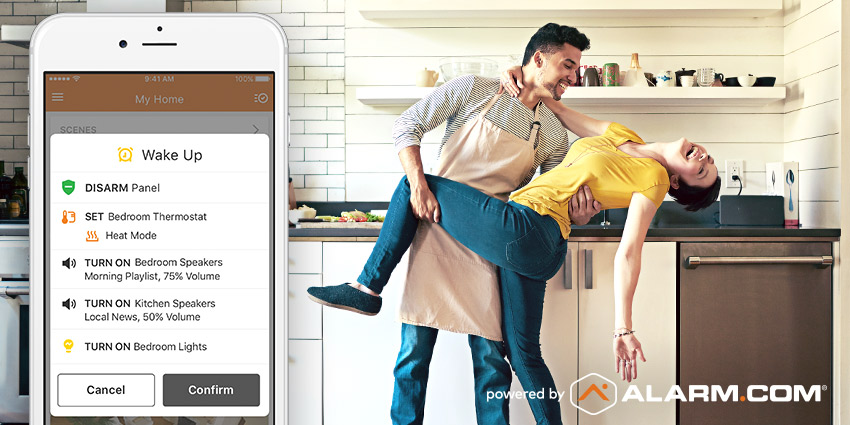 Our app's Scenes commands let you adjust several devices with a single command. Now, you'll be able to activate a music playlist alongside your lights, thermostat and other Alarm.com-powered devices.

Our new audio integration with Legrand will let you integrate Legrand's On-Q smart audio equipment into your Alarm.com-powered smart home ecosystem. You'll be able to add a favorite streaming playlist or radio station to any Scene, as well as powering your home's connected speakers on and off.

3: Control Your Yard's Irrigation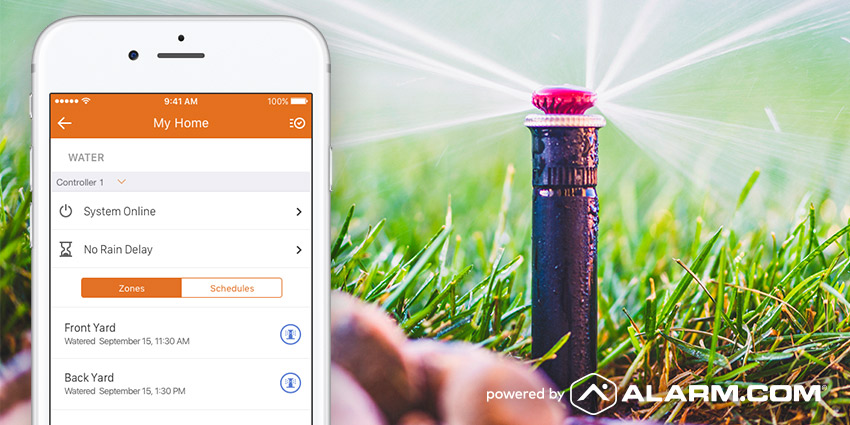 Alarm.com's water management solutions already protect your basement and floors. Now, we'll help protect your lawn and your water bills.

This summer, we're integrating both the Rachio Smart Sprinkler Controller and the Rain Bird Irrigation Controller into Alarm.com. Adding either device to your Alarm.com system will let you easily manage and monitor your yard's irrigation without having to open a separate app, while taking benefiting from advanced water-saving features like Rain Delay pausing and separate irrigation zones.

What else works with Alarm.com?

As the leading platform for the connected home, we aim to give homeowners access to cutting-edge connected technology within a seamless, intelligent smart home solution. We're always exploring and working on new connected device integrations –have you checked out our Alexa skill, for example?

As well as adding new devices, we're always working on new platform and app features to give current devices new capabilities. Our Scenes feature brings one-touch, multi-device automation to your home. Geo-Services, another platform innovation, allows you to automate security and energy features using your location.

If you want long-lasting smart home technology that keeps pace with innovation, evolves with your family, and comes professionally-delivered by the smart home expert of your choosing, Alarm.com is right for you.

To get connected with a service provider today, enter your ZIP code below.
Ready to go?
Alarm.com technology is sold, installed and serviced by licensed service providers near you.

Let's Get Started