Water Dragon is a Water Leak Detector for the Alarm.com Platform
A compact device designed for tight spaces, the Water Dragon is an easy to install leak detector with no plumber required.Nick Boever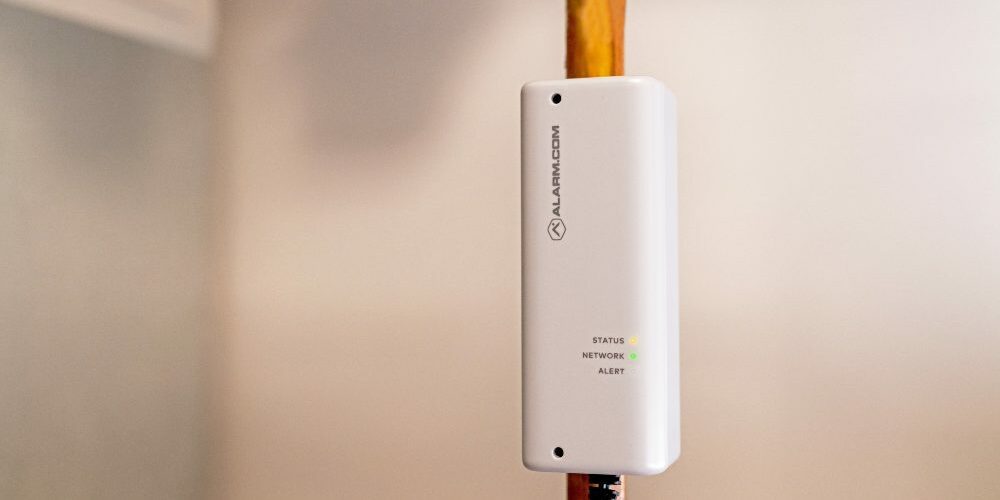 Alarm.com is branching out to help integrators get more involved in water management with the launch of the Water Dragon at CES 2023. Integrating with Alarm.com home security systems, the Water Dragon is a single compact water leak detector that uses ultrasonic technology to detect and alert homeowners about water issues before they become major problems.
Homeowners can also use the Alarm.com app to monitor water usage trends for the day, week, and month, which can help them conserve water and save on utility bills.
"For years, Alarm.com has been innovating and reimagining how to apply smart home technology to proactively detect and prevent problems in the home," said Dan Kerzner, chief product officer at Alarm.com.
"The Water Dragon monitors unexpected water activity so Alarm.com customers can better avoid the conditions that cause mold, costly repairs, and even property loss before it's too late. Whole-home security encompasses more than just intruder protection and should include solutions to ensure your structure is protected from threats inside and out."
Water Dragon Brings Water and Home Security Under a Single Tech Umbrella
Like many home security problems, water damage can happen quickly, unexpectedly, and out of sight. However, in comparison to something like theft, it is far more likely to happen, and can be far more costly when it does, to both wallet and health if it isn't taken care of properly.
According to a recent survey of 1,200 homeowners conducted by the company, 83% believe that an automated water leak detection system would prevent or lessen the outcome of water damage in their home. Furthermore, the need for an integrated solution is apparent, with the survey finding that 88% would like one app to control home security, provide water protection, and manage energy consumption.
"The Water Dragon is part of a comprehensive energy and water management offering that includes not only smart thermostats, water devices, and lights, but also solar and irrigation systems," said Abe Kinney, senior director of product management at Alarm.com. "In the Alarm.com app, consumers can monitor and automate their energy usage to make smarter and more sustainable decisions that are better for their home, budgets, and reducing their carbon footprint."
According to the company's homeowner survey, 84% of respondents would also like to monitor water consumption more closely to minimize waste and reduce environmental impact.
Alarm.com Provides an Easy to Set-up Platform for Professional and Homeowner Alike
The survey also identified one of the top barriers for purchasing smart home connected devices is that they're "difficult to set up."
The Water Dragon is dubbed as a "no-plumber-needed" solution with "clip-and-zip" installation. The unit attaches to the main water line in minutes. The detector can look for water leaks where a traditional water sensor can't be placed and notify property owners of unexpected water activity such as running toilets or hidden leaks in the walls and floors.
The Water Dragon also allows users to monitor the temperature of their pipes and sends alerts for potential frozen pipes, safeguarding against catastrophic water damage.
The Water Dragon is one of the first products offered by Alarm.com that utilizes Z-Wave Long Range – a new protocol standard that significantly extends the range and reliability of Z-Wave devices and eliminates the need for Z-Wave repeaters. It will be available for purchase through integrators in the U.S. and Canada beginning in spring/summer 2023.
This article has been updated as of 01/17/23 to ensure the validity of information provided.

Stephanie Kinney
Alarm.com Public Relations