Are you shopping for your first smart home device today??
We're excited for you. You're about to enjoy a new technology that makes life better. Did you know it can save you
almost $100 a month
?
You should also know that there are two different ways of getting a smart home. You can 'go it alone' and buy your devices at retail, or take the 'do it for me' approach with a service provider.
Before you click any 'Buy Now' buttons, ask yourself these three questions to ensure that you're on the right track.
1: Can you install smart home devices?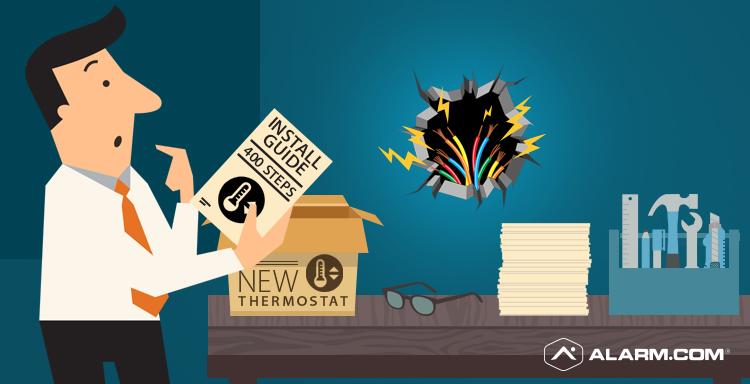 If you're going it alone with smart home technology, you'll need some knowhow.
Installing a connected lightbulb
is straightforward; a smart thermostat requires knowledge of wiring.
Once you've wired your device, you'll need to configure it too. This means connecting it to your home networking system, setting up the app, and troubleshooting any connectivity issues.
If you're confident in your ability, this can be a rewarding road to take. If this doesn't sound like you, professional installation by a
smart home specialist
may be a better option.
Live safe. Live well.
Experience total protection with customized, professionally installed security and a home that works intuitively to keep you safe.
Discover Alarm.com for Home
2: Do your smart devices speak the same language?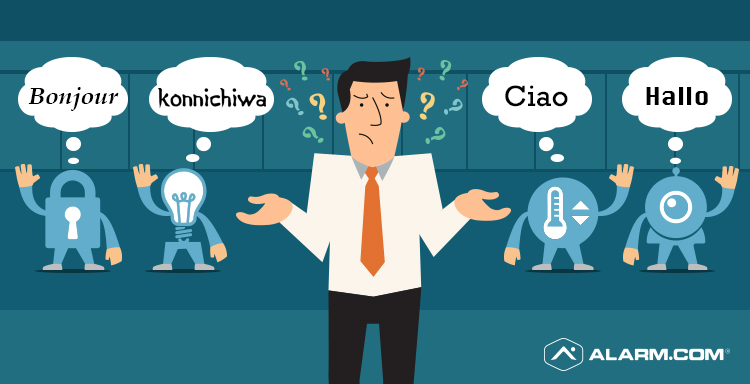 When different smart devices can communicate with each other, they work together and do more. When they don't, it's a recipe for frustration and buyer's remorse.

If you plan to outfit your home with multiple smart home devices, a smart home solution eliminates the problem before it starts. This type of solution comes with a smart home platform: a cloud software 'brain' connected to your home via cellular signal, which co-ordinates your devices behind the scenes and ensures that every device speaks the same language.

3: Is security important?

Streaming video cameras and connected smoke detectors give you awareness of what's happening at home. But when you buy them at retail, they are "self-monitored" in terms of security. You'll get a text message if there's trouble at home, but what happens if you don't get the message or can't respond? 
For the security-minded, professionally monitored options are a better buy. Smart home security systems protect you from a wide range of threats including crime, fire, carbon monoxide and more. If there's trouble, they automatically contact emergency responders as well as sending you a text notification.

Want to explore the smarter way to own a smart home? Click here and connect with a local Alarm.com dealer.
Ready to go?
Alarm.com technology is sold, installed and serviced by licensed service providers near you.

Let's Get Started