Have you ever considered a smart lock for your front door, or a video doorbell?
These modern security devices give you control and visibility over your home's main access point, and they become even more convenient when integrated into a single smart home solution.
With
smarter home security
powered by Alarm.com, you can get the whole package—making your front door (and whole home) the smartest on the block.
Click here for an infographic guide to the smarter front door.
1: Video Doorbell
The Alarm.com Wi-Fi Doorbell Camera is the 'eyes and ears' of your front door's access control. It's part doorbell, part two-way communications device, part security camera—and it's fully integrated into your security system.
When someone rings the bell, you see who's there immediately in your Alarm.com app. You can have a two-way conversation with them through the doorbell's speaker, whether you're home or not. If you want to let them in, simply click the 'unlock' icon on the same screen to open your smart lock.
The doorbell is also a
security camera
, able to record and send you video clips of activity at your door, so you'll never miss anything important or suspicious that happens there.
Find out more: Alarm.com Wi-Fi Doorbell Camera
Live safe. Live well.
Experience total protection with customized, professionally installed security and a home that works intuitively to keep you safe.
Discover Alarm.com for Home
2: Smart Lock

Here's a feature your front door shouldn't have: a spare key hidden nearby for intruders to find. Instead, get an Alarm.com-powered smart lock, with a four-digit keypad that eliminates the need for any key whatsoever.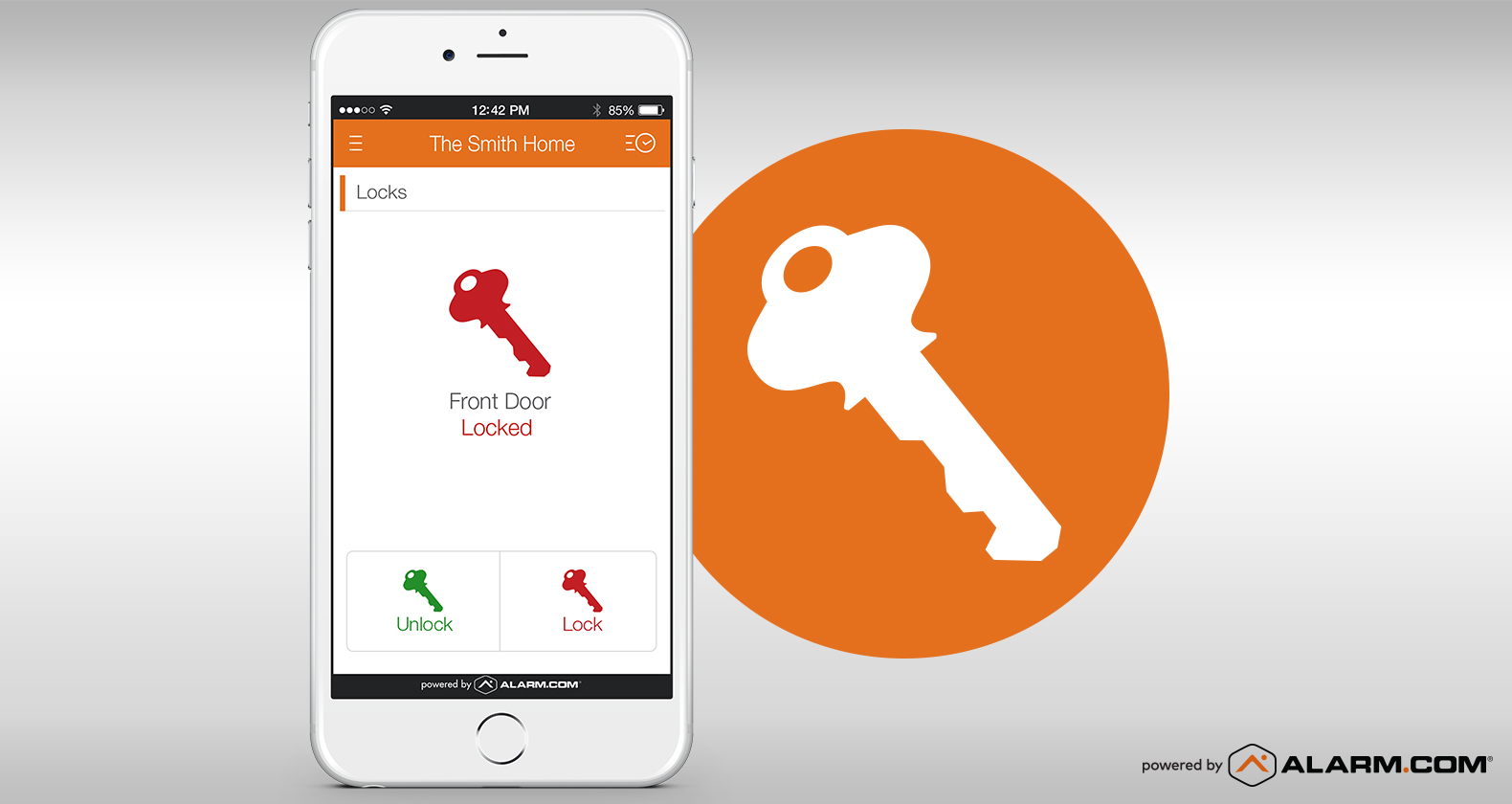 You can create a unique four-digit code for family members and people you trust to access your home. As well as opening the door, these codes can generate automatic smartphone alerts, so you can keep track of your kids arriving home, or contractors arriving and leaving.

Remote locking and unlocking is easy—and should you ever forget, Alarm.com will send you a reminder.

Find out more: What Is a Smart Lock?

3: Smart Lighting

Smart lighting proactively protects your home by ensuring that after-dark visitors find themselves well-illuminated and visible from the street. As part of an Alarm.com-powered smart home security system, it can be triggered by motion on the porch, by someone ringing your video doorbell, or by other sensors around your home (such as the garage door opening).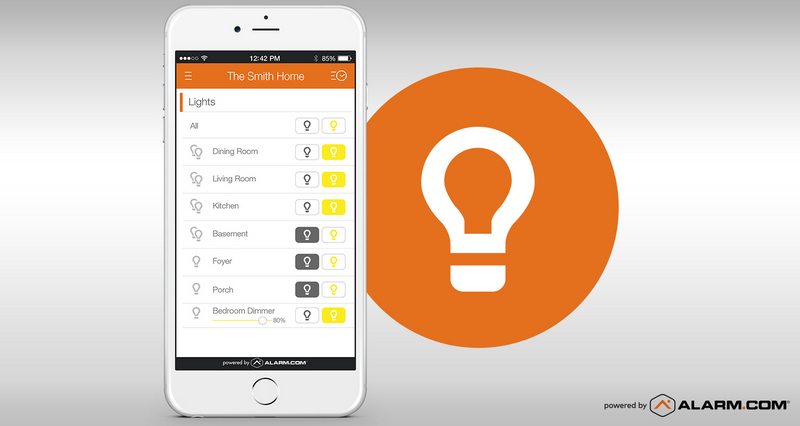 As well as giving you better security, smart lighting is convenient. You can control it with your app, with Geo-Services, or with easy schedules that ensure you'll always come home to a well-lit front door when it's dark outside.

Find out more: The Smart Way to Get Smart Lighting

4: Alarm.com App

Whether you're on the couch, in the office, or even on vacation, Alarm.com's smart home security app puts control of your front door in the palm of your hand. Simply open your app to:


See who's at the door and have a conversation with them
View alerts and video clips about important activity at your door
Unlock your smart lock to allow access to the house
Control your smart lights from home or away
Secure your front door and whole home with a single command
Of course, there's more. Your Alarm.com app controls your home's security system andsmart thermostat, opens your connected shades and garage door, lets you check in on home through your video cameras, turns your phone into a location-based smart home trigger, and many other things besides.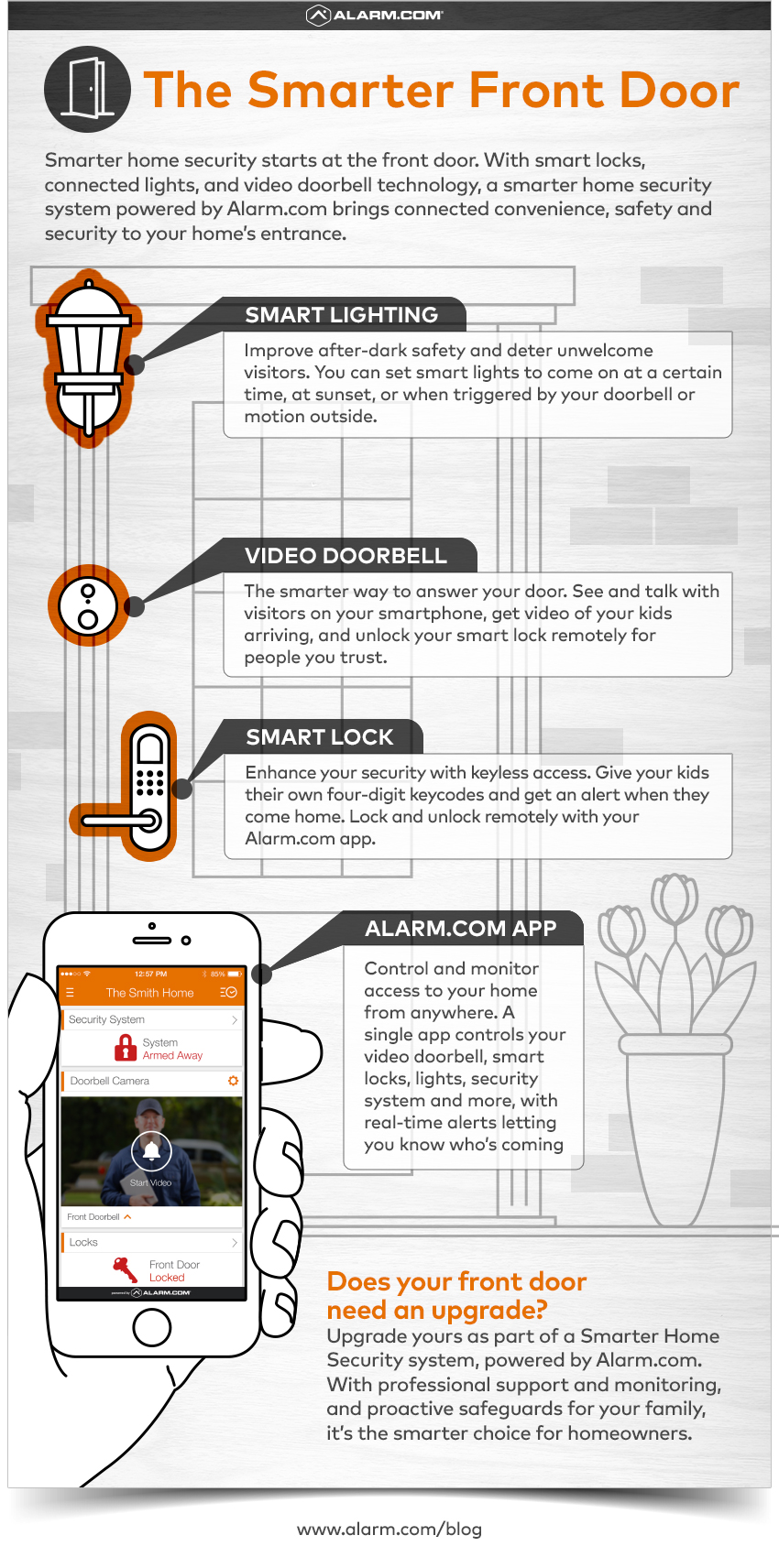 Want a smarter front door as part of a more secure, more convenient home? Here's how to get Alarm.com.
Ready to go?
Alarm.com technology is sold, installed and serviced by licensed service providers near you.

Let's Get Started