As more and more things are getting connected, managing your "smart" home can quickly become a complicated task. A separate app to control each part of your home can mean you'll spend more time sorting through apps than actually getting on with your busy life. At Alarm.com we believe that
the connected home should make things smarter and simpler
. So we integrate all your devices in a single app.
Every Thing In One App

We designed and engineered our app around the connected home so you can access all of the key features in your account from a single screen. Displayed together on the app's home screen, feature cards give you a real-time, at a glance view of what's happening all around your home. Whether you want to know if you left the garage door open or you have that feeling that you forgot to lock the back door again,
you can quickly put your mind at ease
.
With one-touch commands it's also easier to manage the devices and systems around your home. Now you can control any device with a single tap. So if you did forget to lock that back door, you can take action and secure it from anywhere too.
Enhanced Features

Along with the streamlined architecture we've added key new features to make it easier to control your system.
Live, HD video feeds now stream directly from the home screen
, and one tap opens the video details screen where you can access the live-stream from another camera or view your smart clip video gallery. Thumbnail images show what's happening in each clip so it's easy to find the video you're looking for.
You can also see the status of all the doors and windows in your home from the security details screen, and even view a complete history of activity in your home and on your account. Instead of going around your home each night to make sure everything's secure the Alarm.com mobile app gives you a complete, real-time status update.
Real-Time Awareness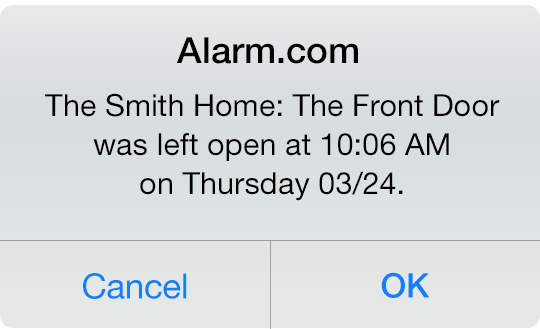 Alarm.com lets our users connect to their homes in completely new ways. Real-time alerts and notifications to your smart phone let you know when a door opens or the security system is disarmed. It's personalized so you can keep tabs on just the activities that you care about.
Our app lets you create new notifications and activate or deactivate existing ones no matter where you go. So as you're racing out of town for a get-away weekend you can add a trusted neighbor to your alert list to help keep an eye
on things at home while you're gone.
Your Home, Your Solution

One of the great aspects of Alarm.com is that it lets our users choose the right connected home solution from our wide range of devices, features and services. Whether you have an interactive security system, a completely connected home or something in between, the new app will make it easier for you to access information you care about and control devices and systems around your home.
Interested in a smart home solution? Click here to connect with a local Alarm.com service provider.
Live safe. Live well.
Experience total protection with customized, professionally installed security and a home that works intuitively to keep you safe.
Discover Alarm.com for Home
Ready to go?
Alarm.com technology is sold, installed and serviced by licensed service providers near you.

Let's Get Started