Our latest app updates are here, bringing some valuable enhancements to your video monitoring experience.
Update your
iOS or Android app
today, and you'll find it easier to see what's happening with your
smart security cameras
—plus, you'll never miss a visitor again.
Share your video clips easily
Sharing an Alarm.com video clip is now as easy as sharing a photo. When you watch a recorded clip, you'll see a new set of icons at the bottom of the screen, including a Share button that lets you share the clip via message, email or social media.
Whether you need to quickly forward a clip of a suspicious caller to your local police department or neighborhood watch group, or you want to upload a clip of your toddler playing to your Facebook timeline, you'll find it a seamless and intuitive experience.
Get a closer look at live video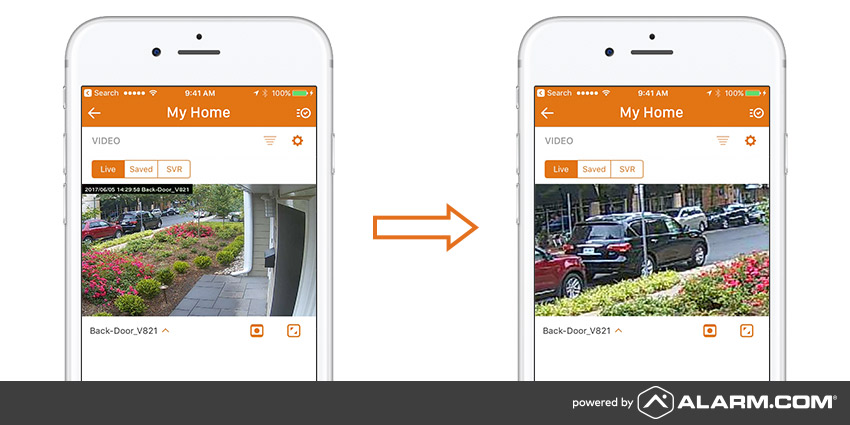 iOS and Android users alike can now digitally zoom in on video feeds.
Did you hear a noise outside your house and want to see what's going on? Are you at work and wondering what your kids are watching on TV? Just open your outdoor camera's video feed, then use your fingertips to zoom in anywhere on the picture for a better view of what's happening.
Live safe. Live well.
Experience total protection with customized, professionally installed security and a home that works intuitively to keep you safe.
Discover Alarm.com for Home
Hear a visitor from anywhere

Have you ever missed a live Doorbell Camera notification on your phone because you were busy, and thought it was just a text? The push notification sent when someone rings the Doorbell now uses a special doorbell chime instead of the default notification sound.

Android Shortcuts support

Android users can now take advantage of Android Shortcuts to interact with their homes more quickly. If you're running Android 7.1 and up, you'll be able to set up a set of quick commands, activated via a long-touch on your home screen's Alarm.com icon.

Related stories: did you miss these updates?

As the leading platform for the connected home, we're always working to improve your Alarm.com experience with new features and enhancements, delivered at no extra charge.


To keep up with the latest news from Alarm.com, follow us on Facebook and Twitter.
Ready to go?
Alarm.com technology is sold, installed and serviced by licensed service providers near you.

Let's Get Started