When you start your own business, there's plenty to keep you awake at night. Did we choose the best location? How can we reach more customers? How are things looking at the business right now—as in: right now, at 10:30 PM?
When she opened
beauty and skincare boutique Ivy Wild
, Washington D.C. business owner Rachel Mulcahy worried about all of the above. After having a full suite of
Alarm.com for Business security technology
installed, however, Rachel found it easy to put security concerns to rest. Take a look.
Smart alerts and video feeds keep Rachel in the know
With
smart security cameras
inside and outside Ivy Wild, Rachel can have a 360° view of what's happening anytime—no matter where she is. Her Alarm.com for Business app lets her quickly view a live feed from any camera, or find a recorded video clip of something that happened earlier.
"I feel like I can be at the store even when I'm not at the store," she says. "I can tap my app's video button and see the store indoors and out."
Alarm.com also offers Rachel an array of notification options for keeping up with important activity.
"I get a notification when the store is closed up and secure." she says. "I can get an alert if the store doesn't open on time. Alarm.com lets me know who arrived, and when. And if I get a notification that something is wrong, I can open my app and see exactly what's happening."
Simplify your business security
Experience better security with fewer frustrations with Alarm.com's ever expanding set of cost-effective, cutting-edge business security solutions.
Small & Medium Business Security
Smart safeguards protect Ivy Wild's inventory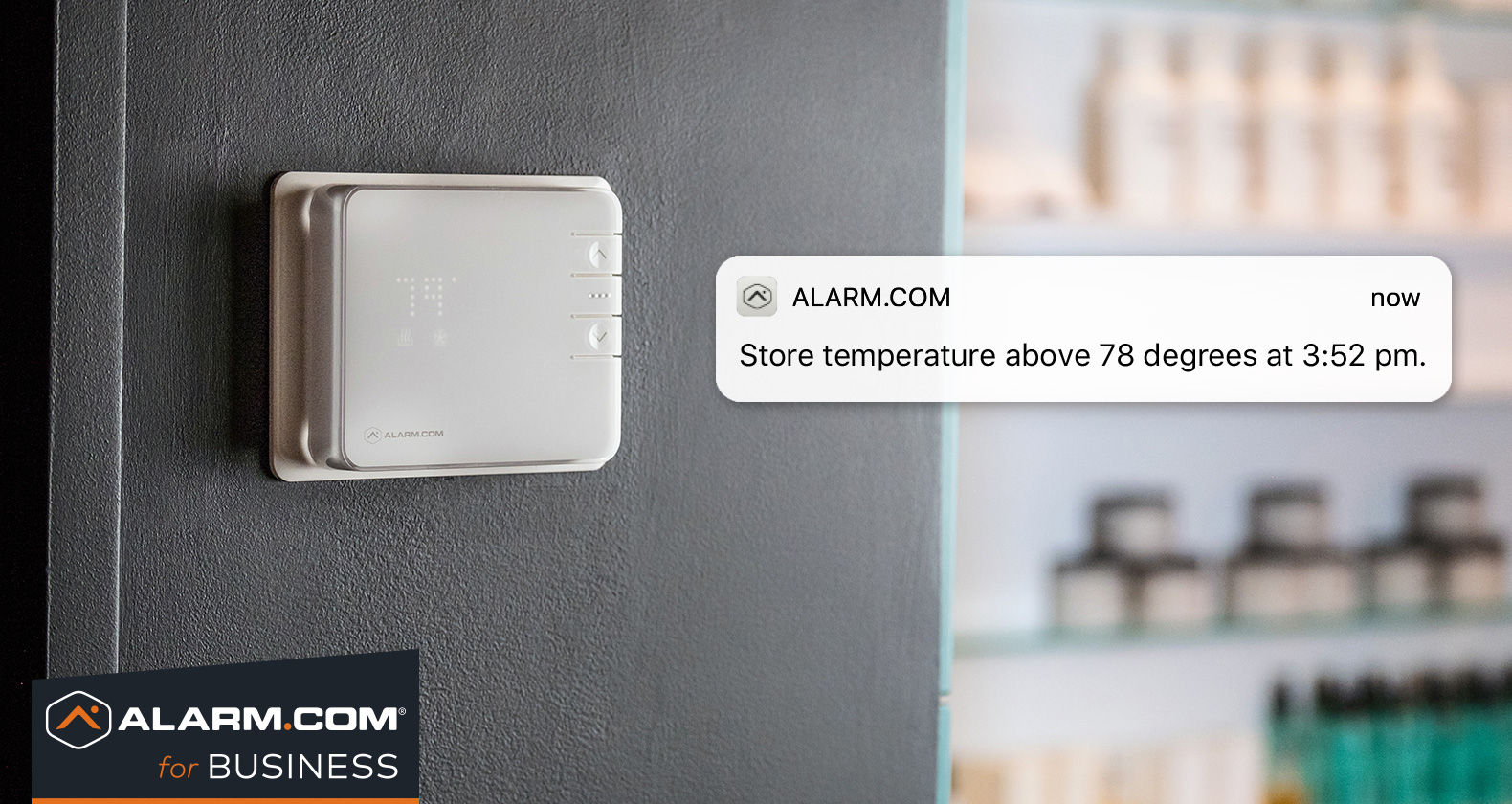 Ivy Wild carries high-quality cosmetics and products that could make an attractive target for thieves. Rachel rests easier knowing that her security system is professionally monitored. In the event of a break-in, local police will be alerted without Rachel needing to act. Additionally, Alarm.com offers Ivy Wild a range of automated safeguards to protect different aspects of the store.

"For example, I'm not always here at the end of the day to lock up," Rachel says. "So, I have an Alarm.com rule that locks our smart lock, automatically, every day at closing time.

Even Ivy Wild's smart thermostat helps protect things.

"It would be a problem if the store got too hot," Rachel says. "We don't want our cosmetics getting overheated; it could degrade the quality. Fortunately, I can see and control the temperature from anywhere with my Alarm.com app. If things get too warm, I'll get a temperature alert. It's amazing to have Alarm.com take care of these things."

Managing access for employees is easy—and more secure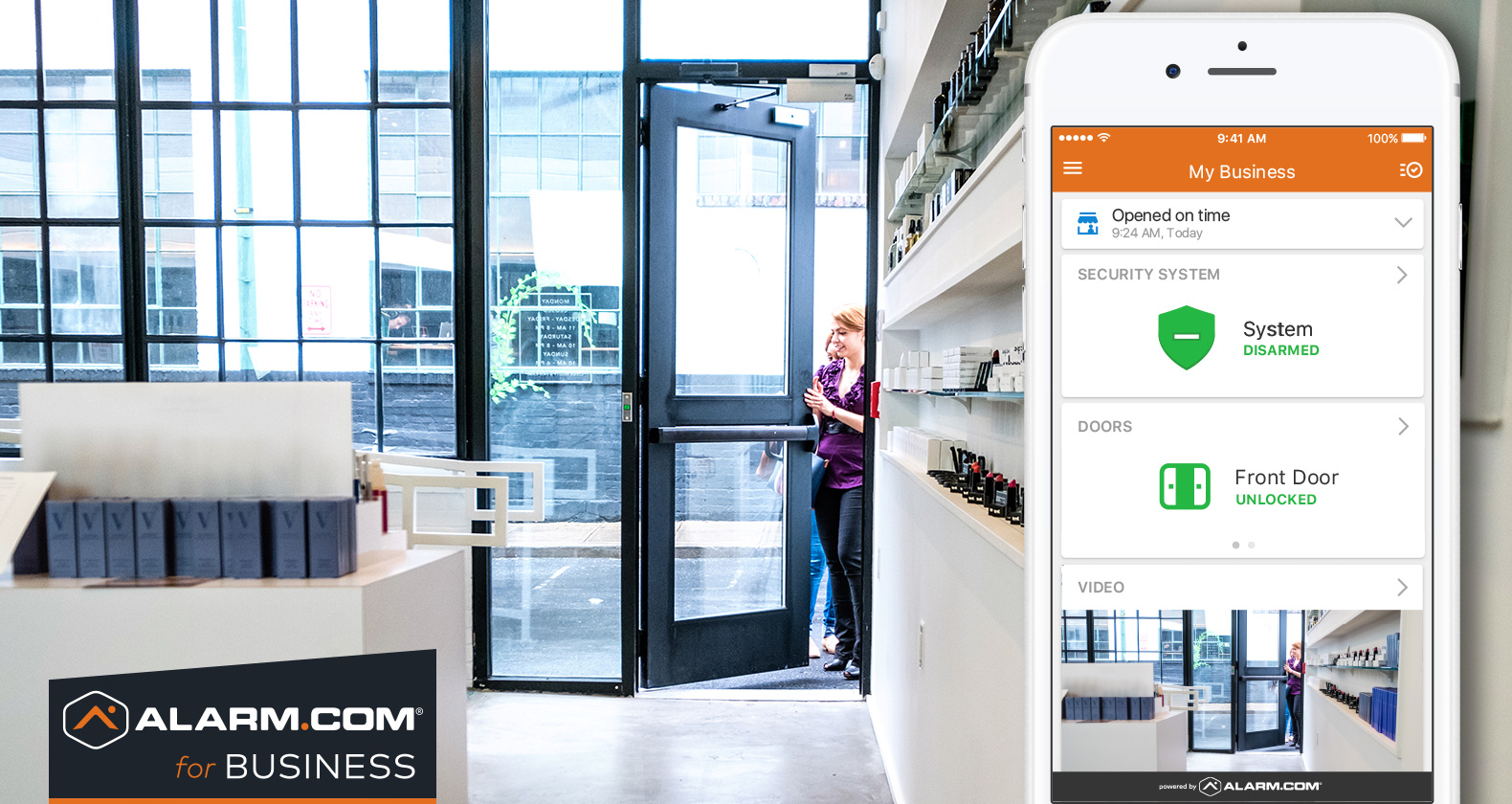 Ivy Wild has four part-time employees, who all need to access the store at different times. With Alarm.com's smarter access control, that's easy.

"I can quickly set up access for a new employee," says Rachel. "I go into my Alarm.com dashboard, set them up with a keycard, then specify the times and days on which they have access to the store. If anyone forgets their card—although it hasn't happened yet—I can unlock the door remotely with my app."

Related: "With keyless access, Alarm.com for Business makes my life easier."

As Ivy Wild grows, Rachel expects to rely on Alarm.com even more.

"If we open another location, I'll want the same technology there," she says. "Being able to manage employee access for two stores, side by side, with each store's video feeds and activity alerts too, would be huge."

"This is a security system but it does so much more," says Rachel. "I consider it an essential business tool—something every owner should have."

Want Alarm.com for your business?

Professionally delivered by authorized service providers, Alarm.com for Business is the smartest way to upgrade your security, access control, video surveillance and energy management. To get started, click below.

Ready to go?
Alarm.com technology is sold, installed and serviced by licensed service providers near you.

Let's Get Started