If you saw
our CES 2017 news
, you'll know about Alarm.com's new Unexpected Activity notifications, which alert you to unusual events in your home that could spell trouble.
They're the latest in a huge range of Alarm.com alerts that let you know about important things at home. Our smart home security alerts are easy to set up,
like this no-show alert
, and they can save you a great deal of trouble by giving you early awareness of a problem at home.
Here are four lesser-known but valuable Alarm.com alerts you should know about. You can find them all and opt into them by logging into your Alarm.com account on a desktop or laptop, and going to the Notifications tab.
1: Temperature Threshold Alert
Great for frequent travelers or second homeowners, this alert warns you
if your home's heating malfunctions
in winter when you're not there.
If the temperature drops below a given threshold, you'll get a notification, giving you time to take action before your water pipes freeze and burst, averting
expensive water damage
.
Live safe. Live well.
Experience total protection with customized, professionally installed security and a home that works intuitively to keep you safe.
Discover Alarm.com for Home
2: Smoke Detector Low Battery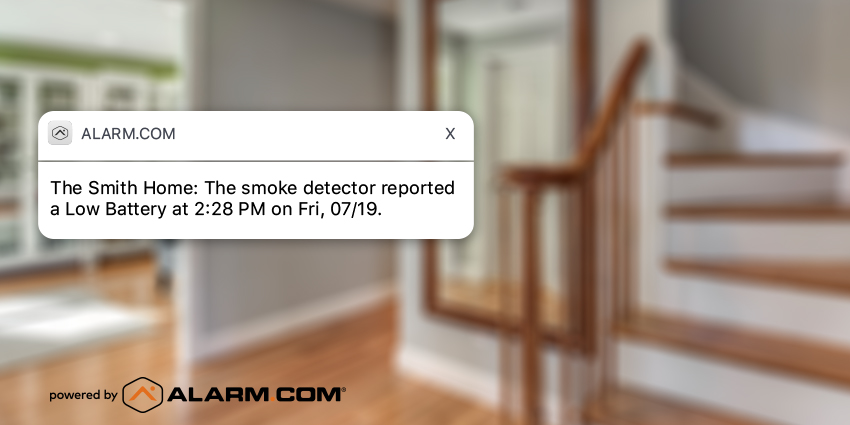 You may have grown up with the habit of replacing your smoke detector batteries at the same time as you adjusted your clocks and watch for Daylight Savings time.

These days, with the clock on your phone updating automatically, it's easy to forget. No worries: a smart smoke detector, installed as part of an Alarm.com-powered security system, automatically sends you an alert when its battery runs low, no matter what time of year it is.

3: Curfew Alert

Giving your teen kids a curfew is a good way to enhance their sense of responsibility as they become more independent. If you go out for the evening, though, how will you know for sure?

Alarm.com can help you keep tabs with a curfew alert. It's a type of user code alert which only alerts you if your teen arrives home and disarms the security system after a given time of night.

You also have the option of a no-show alert—great for teens, dog walkers and contractors alike.

4: Refrigerator Left Open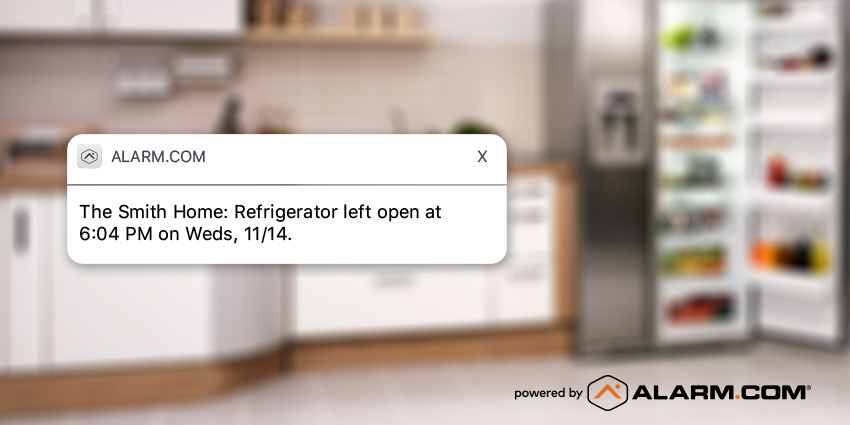 Have you ever experienced the sinking feeling of discovering a refrigerator of spoiled food, or a thawed freezer, because you or your kids left the door ajar?

This costly situation is easily averted byplacing a designated contact sensor on the door and activating this pre-set notification. If the door is left open for more than five minutes, you'll get a reminder to close it.

Want to know more?

To explore Alarm.com's full range of alerts, log into your Alarm.com account and go to the Notifications tab.

Don't have Alarm.com yet? Here's everything you need to know about getting started.
Ready to go?
Alarm.com technology is sold, installed and serviced by licensed service providers near you.

Let's Get Started