It used to be that the more secure you made your front door, the more inconvenient it became to let people into your house. Then, smart locks arrived and changed everything.
A smart lock makes it easy to give (and revoke) access to your home, without having to compromise your security. You get to ditch those spare keys—including the one under the planter by your door—and enjoy extra
convenience and awareness
instead.
What defines a smart lock?
1: Keyless entry:
most smart locks feature a numerical keypad, which lets you unlock your door with a four-digit code instead of a physical key. You can create a different code for each member of the family, and also for trusted visitors.
2: Remote locking:
smart locks typically come with their own smartphone app, which enables you to lock and unlock your door remotely from anywhere. If someone forgets their code, it's easy to let them in, even if you're not there.
If your smart lock is installed as part of a
smart home security system
, you'll be able to control your lock through your main Alarm.com app, alongside other devices in your home.
3: Alerts:
most smart locks come with the option to
send an alert
when a specific user opens your door with their code. Alerts are great for
keeping tabs on kids
after school when you're not there, or for checking that a contractor arrived on time.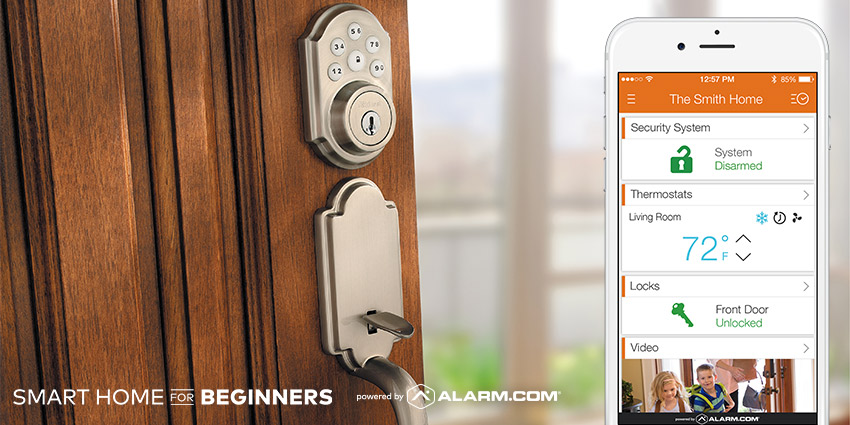 Live safe. Live well.
Experience total protection with customized, professionally installed security and a home that works intuitively to keep you safe.
Discover Alarm.com for Home
Tips for buyers

Not sure about installing a new lock yourself? Consider buying your smart lock, and other smart home devices, as part of a professionally installed smart home security system.

An Alarm.com-powered system can incorporate a range of smart locks built by trusted hardware manufacturers including Kwikset, Yale and Schlage, professionally installed by your service provider. As well as easy installation, you'll also enjoy these extra features that make your smart lock even more useful:

1: Proactive reminders and alerts: if you forget to lock your front door on the way out—easily done when you're late for work and trying to hustle the kids into the car—your system proactively sends a locking reminder to your smartphone. Just tap it once to lock the door—you don't even need to turn around.

2: Time-saving automation: As part of a smart home security system, your smart lock can trigger other devices in your home to act when you use it. Locking up in the morning can trigger your security system to arm, your garage door to close, and your lights to turn off. It can even trigger your smart thermostat to set back, saving energy while you're out.

You can also include your smart lock in Scenes—single commands that trigger several devices at once, making it incredibly easy to secure your home for the night, or open it up as you arrive home with groceries.

3: Video doorbell integration: when installed alongside a video doorbell powered by Alarm.com, your smart lock becomes part of a 'smart front door' solution that allows you to visually verify visitors from home or away, then let them in.

When a visitor rings the doorbell, you can see who's there on your Alarm.com app, hold a two-way conversation with them, and let them in by clicking a lock icon at the bottom of the video feed.

What about the garage?

If you're one of the 70% of Americans who use their garage door as the primary entrance to their home, you should consider smart access for your garage as well.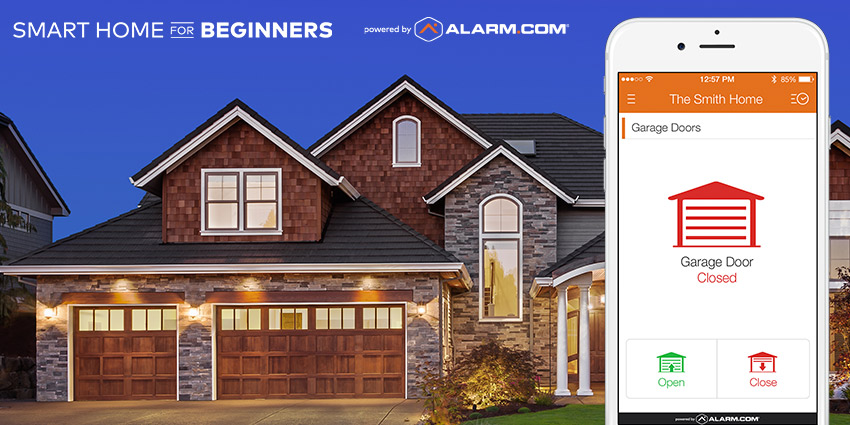 Garage doors are easy to leave open by accident. Ordinarily, this means having to return home to secure the door—if you remember at all, that is. A smart garage door opener, connected to a smart home security system, takes care of this common problem.

As with a smart lock, you'll get a smartphone reminder if you leave home with the garage open, enabling you to close it remotely without turning around. You can also set up a reminder that lets you know if the garage is left open when you're home. You can also get alerts when other family members open and close the garage—a great way tokeep track of a newly-licensed teen.

Most garage doors made after 1998 can be retrofitted with a smart door opener as a part of an Alarm.com-powered security system. To find out more, check out all of the benefits of a smart garage here.

Interested in smart access control for your home?

Alarm.com powers millions of smart homes in the USA and worldwide. It's the easy, affordable and professionally-supported wayto upgrade your home with cutting edge smart technology, including smart locks.

Millions of homeowners trust our technology to make their homes safer, smarter and more efficient. To discover more advantages of building your smart home with Alarm.com, click here.
Ready to go?
Alarm.com technology is sold, installed and serviced by licensed service providers near you.

Let's Get Started