From
video doorbells
to
smoke detectors
, connected home security devices are at the top of many homeowners' holiday wish-lists this year.
Protecting your home and family is the most popular reason for buying smart home technology, and you'll find no shortage of products to choose from. Some are more effective than others. The gold-standard solution is the platform-powered, professionally delivered smart home security system, which will
forever change the way you think about home security
.
Compared to a traditional system or an off-the-shelf connected device, it's more secure, more useful, and more convenient, with features and abilities that neither alternative can provide.
What Defines a Smart Home Security System?
1: Control it from anywhere.
Unlike a traditional system that can only be armed and disarmed at the wall panel, smart systems come with an app that gives you
control of your home's security
from anywhere. You'll have the convenience of arming your system from the driveway as you leave, or using your app to create a
unique security code
for a guest.
2: Get alerts about activity:
A smart security system keeps you more connected to home with
smartphone alerts
about activity there. If a sensor is tripped, or an alarm sounds, you'll be alerted.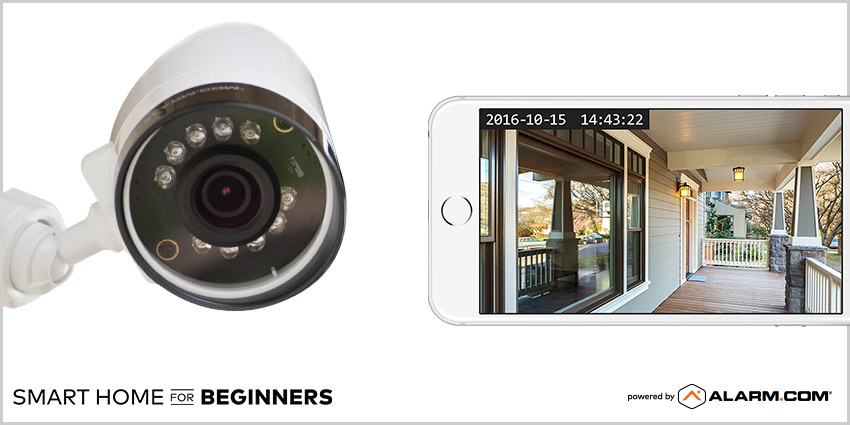 The better the system, the more options you'll have at this point, such as the ability to see what's happening via
image sensor
, or
video camera
.
3: Smart home benefits:
The best smart home security systems are compatible with a range of smart devices, such as
locks
,
lights
and even
smart thermostats
.
The level of compatibility depends on the software platform that powers the security system. The best platforms are built to quickly integrate additional devices. Other systems may require
potentially frustrating workarounds
using third-party software.
Are you a smart home beginner? Click here for more quick guides.
Essential Tips for Buyers
It's essential to choose your smart security system carefully to get the maximum benefits—
protection, convenience, and even energy savings
—and to avoid the 'opportunity cost' of being locked into a sub-standard technology down the line. Always consider these three factors:
1: Professional installation is a good option
Some smart home devices are easy to install. Connected lights, for example, are straightforward. A full security system, with multiple door and window sensors, and other devices, is more challenging.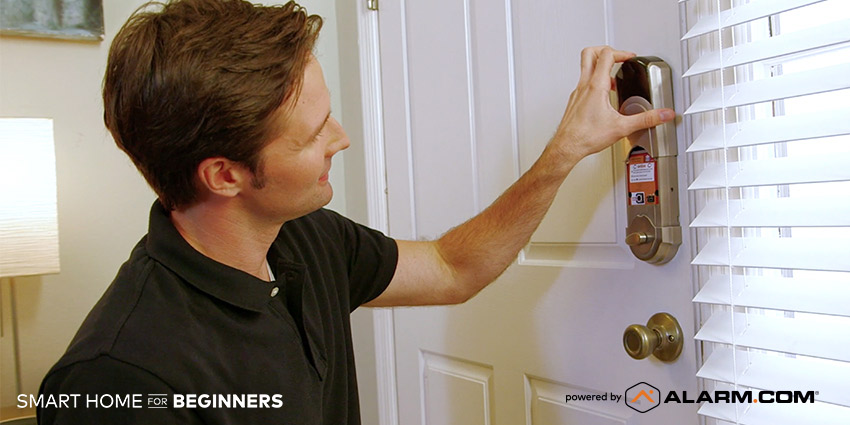 As well as installing everything, you'll need to configure it, connecting each device wirelessly to the system, setting up your app, and ensuring that everything communicates to protect your home.
If you're confident in your ability, this can be a rewarding project. If you're not, a
professionally installed system
, serviced and supported by a smart home security dealer, is the best way to go.
Live safe. Live well.
Experience total protection with customized, professionally installed security and a home that works intuitively to keep you safe.
Discover Alarm.com for Home
2: Compatibility matters

The right smart home security system will give you the basis of a complete, next-generation smart home, where devices like smart thermostats, cameras, lights and locks share intelligence with the security system and act together to take care of everyday tasks for you.

You might not need these devices right now, but they're becoming increasingly popular and somewhere down the line, you'll want them in your home. If you're a homeowner buying equipment for the long term, it's essential to pick a security system powered by a full smart home platform that can incorporate these extra devices.

The platform is the 'brain' of the system and the smart home, able to connect and coordinate every device into an ecosystem that delivers the biggest benefits: better security, energy savings, proactive solutions to everyday problems, and even universal voice control.


3: Professional monitoring is essential

In a true emergency, getting an alert from your smart home security system is valuable, but what you really need—especially if you're not home—is fast, professional help.

Most connected security products can send you an alert, but that's no use if you don't see the alert, or if you're in a different city, where dialing 911 won't get you through to your hometown's police department.

An Alarm.com-powered security system will alert a professional monitoring station if there's trouble at home, be it a break-in, fire, or carbon monoxide leak. A security professional will dispatch your local police or fire department directly to your house.

Even if an intruder breaks your security panel, Alarm.com's dedicated cellular connection will still signal for help. This is a level of protection that off-the-shelf devices can't offer, and it's essential if you want true protection for your home.

Interested in a smart home security system?

Alarm.com powers millions of smart homes in the USA and worldwide. It's the easy, affordable and professionally-supported wayto upgrade your home with cutting edge smart technology, including connected security cameras.

Millions of homeowners trust Alarm.com technology to make their homes safer, smarter and more efficient. To discover more advantages of building your smart home with Alarm.com, click here.
Ready to go?
Alarm.com technology is sold, installed and serviced by licensed service providers near you.

Let's Get Started