Are you thinking about the next big project for your yard? Why not give the landscaping (and your back) a rest this year, and smarten up your yard with some technology instead.
It's easy to extend the
benefits of a Smart Home
to your yard. By adding a few discreet connected devices around the outside of your home to your Alarm.com system you'll have a 'smart yard' that makes your outdoor space safer and more secure for children and pets. It offers some other benefits you might not expect.
Here's why Alarm.com could be your yard's most remarkable feature yet.
Maintain your boundaries
If you're a parent or grandparent, your yard is a safe and fun place where the kids can explore, but you still want to keep an eye on things to make sure everything's okay. Alarm.com helps make that a little easier.
A contact sensor on your gate will let you know right away when it's opened with an instant alert on your smartphone or
Apple Watch
. If you aren't there watching, you'll still know if someone's coming or going from the yard.
Pool owners know that restricting access to the pool is an important safety and liability concern. Contact sensors are a comforting back-up to a locked gate, and you can also place them on a tool shed or anywhere else that may be trouble for the kids.
Related: How a Smart Home Keeps You Worry-Free
With a wireless
outdoor video camera
covering your yard, you can even see what the kids are up to from your smartphone. It's a great way to view them in their 'natural habitat', and our outdoor camera is small and discreet so it blends in with your home.
Live safe. Live well.
Experience total protection with customized, professionally installed security and a home that works intuitively to keep you safe.
Discover Alarm.com for Home
Enjoy brighter, safer evenings

While front doors and porches are usually well-lit for safety and security, the back yard is often overlooked.

By installing a smart switch on your outdoor lighting, you can control your lights from anywhere and create a schedule to light up your yard automatically at sunset. That contact sensor on your gate or back door can also trigger your lights to come when opened after dark. It's a great way to deter unwelcome visitors and keep things well lit as you come without wasting energy.

Keep the AC in when the kids go out

A significant cause of energy waste during the summer is the kids leaving doors open. As they come and go from the yard it's easy to overlook an open back door, but a contact sensor and the Alarm.com Smart Thermostat has you covered. It cuts back your air conditioning automatically when the door is open for too long, and sends you an alert. As soon as you close the door again, your AC automatically returns to comfort mode.

See the visitors you want to see

If you enjoy your local wildlife, video monitoring is a great way to spot some of the more timid visitors to your back yard.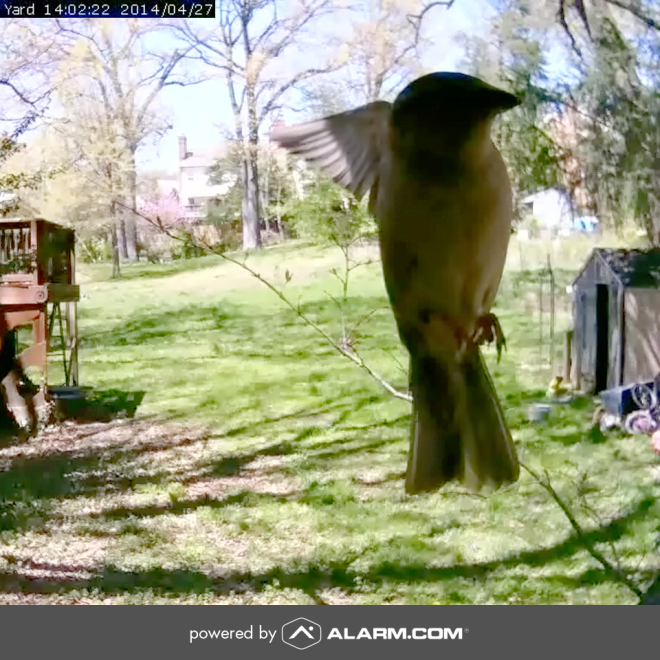 Alarm.com-powered cameras include all-weather and night-vision models that you can train on bird-feeders and other wildlife hotspots. You don't need to stay up all night. Motion-triggered video alerts will give you a 'highlights reel' on your smartphone in the morning.

Interested in a smart yard? Click here to connect with a local Alarm.com dealer today.

PS: If you'd rather hang out in the garage than the yard, click here.
Ready to go?
Alarm.com technology is sold, installed and serviced by licensed service providers near you.

Let's Get Started