Are you planning a spring break trip this month? Why not take a little piece of home - and some extra peace of mind - with you?
By keeping you effortlessly connected to home, Alarm.com's
smart home security app
frees you from worry so you can enjoy your trip more. Here's what makes it a modern travel essential for any vacation or trip.
It remembers important things
Sunscreen… check. Kids' bathing suits… check. Locking up your house… check your Alarm.com app from the car. If you forget to secure anything as you leave, Alarm.com
will prompt you to do it
once you're on the road.
It's a lifeline to home
Need to let a neighbor in when you're away? Alarm.com's access control lets you
unlock your front door
from your phone. Want to check in on the petsitter? Connected video gives you
an instant view of what's going on
.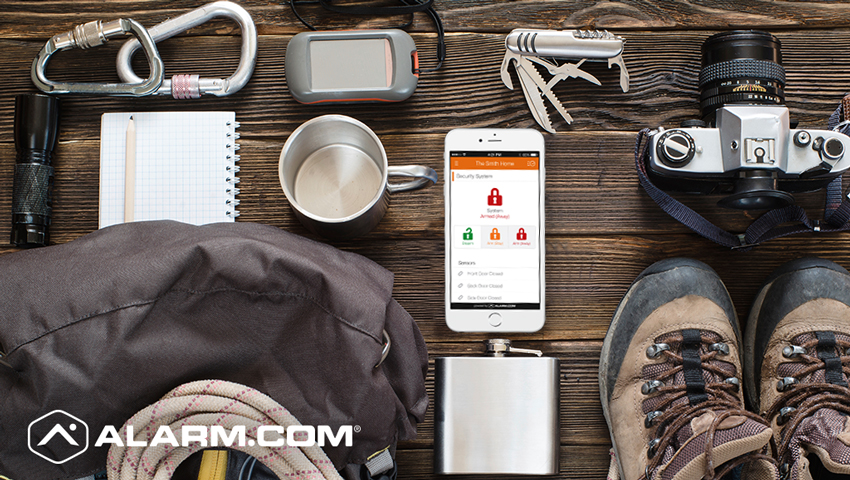 Live safe. Live well.
Experience total protection with customized, professionally installed security and a home that works intuitively to keep you safe.
Discover Alarm.com for Home
It helps you relax

If there's an emergency at home while you're away, 24/7 professional monitoring means that help will arrive, whether you see the smartphone alert or not. You can relax completely in the knowledge that Alarm.com is proactively protecting your house.

It's versatile

Whether you're chilling with a movie on your iPad, taking holiday snaps on your phone or taking a run with your Apple Watch on, you can access Alarm.com on the device that's closest to hand. If you're so far off the beaten track that there's no cell service, you can even log in at an internet café.

It'll go (almost) anywhere with you

From ski slopes to the open road, deserted beaches to bustling cities, Alarm.com will come along for the ride as your pocket connection to home. Just don't take it scuba diving, please.

For a deeper look at how Alarm.com makes your vacation more relaxing, click here. To connect with an Alarm.com service provider before your next trip, click here.
Ready to go?
Alarm.com technology is sold, installed and serviced by licensed service providers near you.

Let's Get Started