Are you considering a new security system this year? Join the millions of homeowners who enjoy better protection and an incredible range of
smart home benefits
with Alarm.com technology.
Upgrade your home
with Alarm.com this year and you'll see exactly what these seven users are talking about.
1: It's easy to control from home or away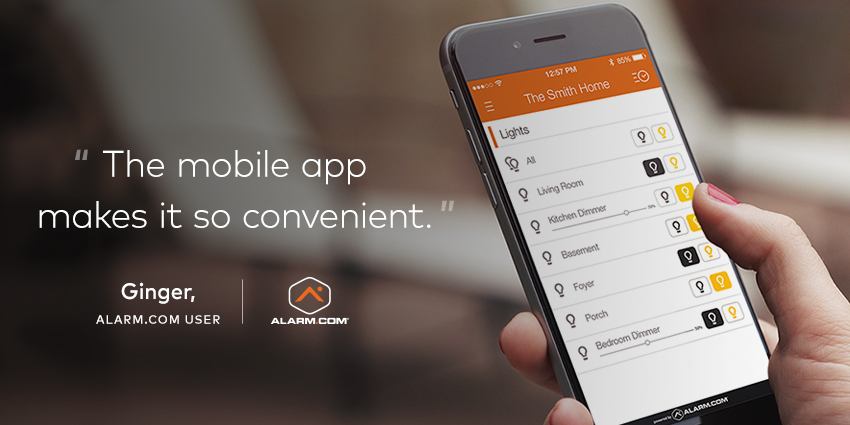 While old security systems can only be controlled at the wall panel, Alarm.com's app turns your smartphone
into a pocket command center
for your home's security, access, video monitoring, temperature control and more.
You can disarm and arm your system from anywhere,
let visitors into your home remotely
, see activity at your home in HD video, adjust your thermostat and open your garage. You can even
control all of your devices at once
with a single button. And that's just with the smartphone app…
there's voice control too
.
Live safe. Live well.
Experience total protection with customized, professionally installed security and a home that works intuitively to keep you safe.
Discover Alarm.com for Home
2: It proactively warns you when there's danger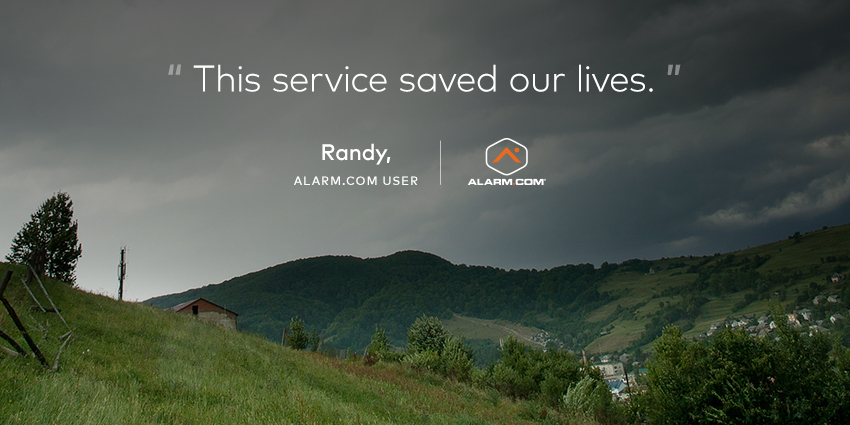 While older security systems only let you know after something bad happens, an Alarm.com-powered system uses advanced intelligence to warn you beforehand.

Unexpected activity notifications alert you to potential danger in your home, such as young children accessing dangerous areas. Smartphone reminders let you know if you forget to secure your home; a situation that's easily fixed. You'll even know about tornadoes in advance.

3: It keeps you connected to your family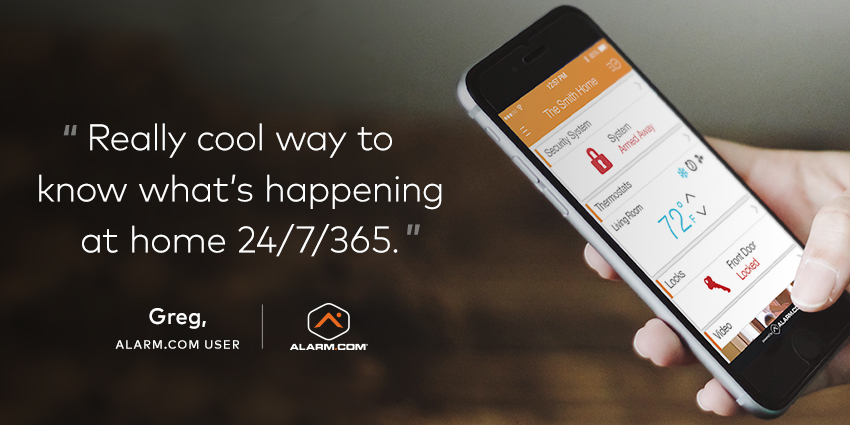 When you work long hours, your Alarm.com app is a delightful way to stay more connected to your family.

You can get a video clip every day when your kids arrive home from school, or just open a live video feed to check in on them anytime. You can set up no-show alerts for peace of mind, and other alerts that keep you aware of activity around the house. It's a great way to lighten that FOMO feeling and keep an eye on things.

4: In an emergency, you're safer



Alarm.com is a true security system that comes with proactive safeguards to protect you - including 24/7 professional monitoring.

That means that in an emergency event—whether it's a break-in, a fire, or a carbon monoxide leak—your system proactively signals a professional monitoring station for assistance. A security professional will quickly assess the situation and dispatch police or firefighters to your home.

5: It helps you save energy and money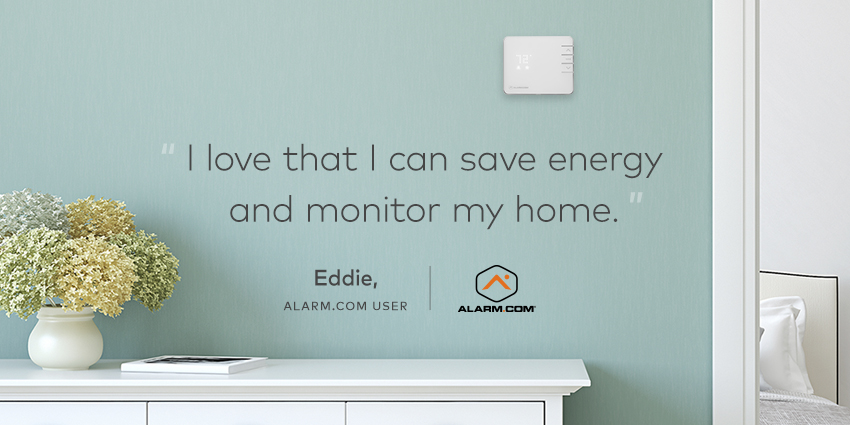 A smart thermostat is an easy way to reduce your energy bills. With Alarm.com, you don't need to shop separately for one; instead, you can have it installed as part of your system.

Our smart thermostat integrates completely into your Alarm.com system, giving it extra intelligence from your home's security sensors. This makes it more attuned to your activity and needs, enabling smarter energy savings that don't leave you uncomfortable.

6: In fact, it takes care of a lot of homeowner worries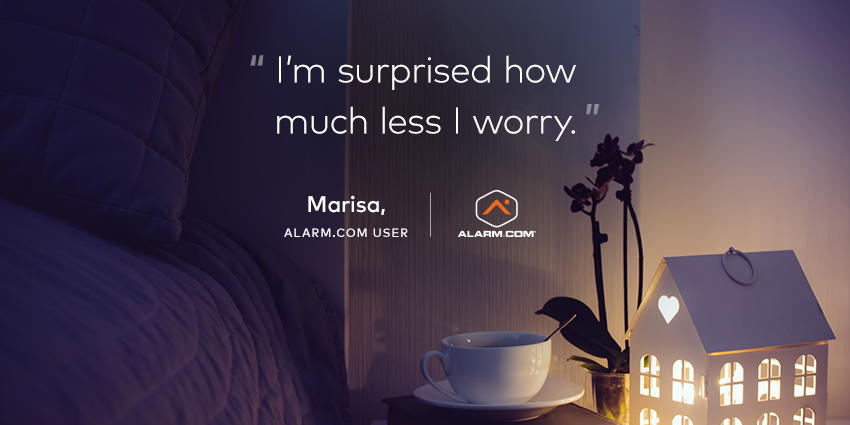 Whenever you're away from home, knowing that Alarm.com is protecting your property gives you extra peace of mind.

It's not just protection from crime that Alarm.com gives you. Your security system can alert you if there's a water leak, or a drop in temperature that indicates an HVAC failure, or if your sump pump fails after a heavy rainstorm. Even if you're not there, Alarm.com makes it easy tolet a professional into your hometo fix the problem before the damage gets worse.

7: You can rely on Alarm.com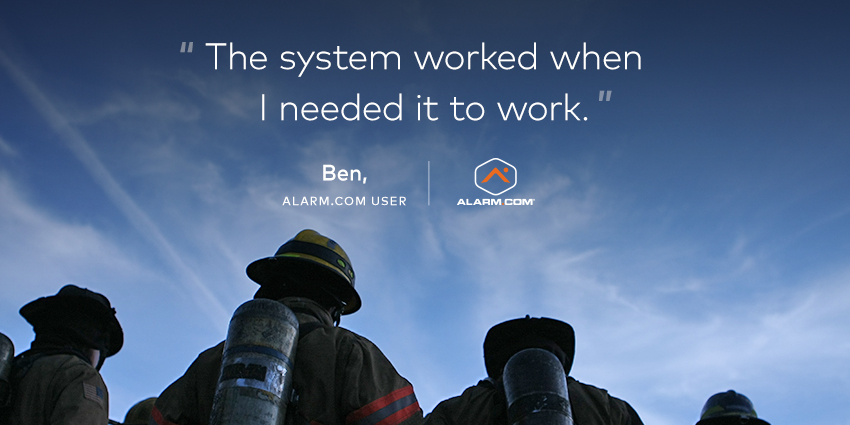 Alarm.com technology is built to the life safety standards demanded by the security industry.

Installed and supported by a home security professional, your system will include a dedicated cellular connection that keeps your home connected through a power outage, broadband failure, or even an attack on your security panel. When your home is in danger and you need help, Alarm.com comes through.

Want to upgrade your home with smarter home security? Here's how to get Alarm.com.
Ready to go?
Alarm.com technology is sold, installed and serviced by licensed service providers near you.

Let's Get Started