Technology has made dramatic
improvements to the traditional security system
. The Alarm.com Image Sensor is the next generation of the traditional motion sensor, designed exclusively for our
wireless Smart Home Security systems
. It's small, streamlined, and enhanced with an onboard camera.
It sends you intelligent alerts about motion-detected activity in your home, with a picture to see what's happening.
In a traditional system, a motion sensor might trigger an alarm and you would have no idea why. An Image Sensor's pictures show you what's going on, and can reduce false alarms too.
What does it do?
An Image Sensor can be installed virtually anywhere when you set up your security system: by the front door, in a child's room, on your back porch, or anywhere you want to monitor. Once installed, it can send motion-triggered snapshots of activity to your smartphone via the Alarm.com app, text or email.
It also gives you several ways to check in visually on your home, including:
Peek in:
get a picture from your Image Sensor on demand.
Triggered alert:
receive a picture when another device in your Smart Home is activated – for example, when someone disarms your security panel: a great way to confirm that that family members have arrived home.
Alarm event:
in an intrusion or fire, the Image Sensor begins sending images automatically. Because it's
connected wirelessly to the security panel
, which runs on a back-up battery and a cellular connection, it can send images even when your electricity and phone line are down.
These pictures were captured and sent by an Image Sensor in a burning house. Even though the firefighters cut the electricity off, the sensor kept on working.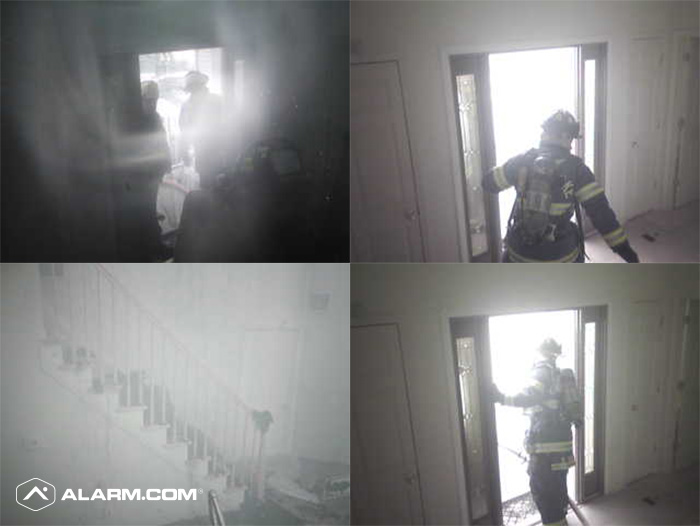 Live safe. Live well.
Experience total protection with customized, professionally installed security and a home that works intuitively to keep you safe.
Discover Alarm.com for Home
What's its role in the Smart Home?

In addition to convenient visual verification, the Image Sensorcan trigger other devices to act. By feeding real-time motion data back to your security system, an image sensor can trigger devices such as smart lights to activate when you walk in front of it.

How does it work?

The image sensor has a Passive Infra-Red (PIR) detector to sense activity day and night, and an onboard color camera with a night-vision LED flash so that you can always see what's going on.

It runs on batteries and connects wirelessly to your system, with no broadband connection or electrical wires necessary. It can be installed in corners or on flat surfaces, at almost any angle.

The Image Sensor uses Alarm.com's dedicated cellular connection, rather than relying on Wi-Fi or broadband. This means that it still sends images even if your power and Internet are out. All of your images are stored in our secure cloud, enabling you to view them anytime on your smartphone app or via the Alarm.com website.

How do I get one?

Image sensors are a component of our Smart Home Security systems. You can add as many to your system as you like. If you're new to Alarm.com, you can connect with a dealer by clicking here.
Ready to go?
Alarm.com technology is sold, installed and serviced by licensed service providers near you.

Let's Get Started