Thanks to dramatic
improvements in home security technology
, the unassuming contact sensor, a staple of security systems, has also become a key building block of the Smart Home.
Originally designed to catch an intruder opening a door or window, this small device can also trigger
smartphone alerts
, turn your lights on, and even
control a smart thermostat.
That's all thanks to Alarm.com's Smart Home platform, which turns data from contact sensors into intelligent actions.
What does a contact sensor do?
Contact sensors tell your system if something is open or closed.
They're typically installed on doors, windows or drawers throughout the house. They have two pieces: one installed on the door itself; the other installed next to it on the jamb. When the door is opened and the pieces move apart, the sensor signals 'open' to your security system.
In a traditional security system, the contact sensor's role is to trigger the alarm. If the security system is armed and one of the sensors on a window or door signals 'open', the system will signal an alarm unless disarmed.
In a Smart Home Security system from Alarm.com, the sensor's role is far greater. Their status (open or closed) can generate real-time smartphone alerts so you know when a door is opened around the home. These alerts are easy to customize, so you can set them up to get exactly the important information you want. For example, you can get an alert if a window is open when you go to bed, or if you leave home without closing the back door.
Live safe. Live well.
Experience total protection with customized, professionally installed security and a home that works intuitively to keep you safe.
Discover Alarm.com for Home
Where else can they help protect?

Because contact sensors are wireless and easy to install you can put them on almost anything that you want to keep tabs on.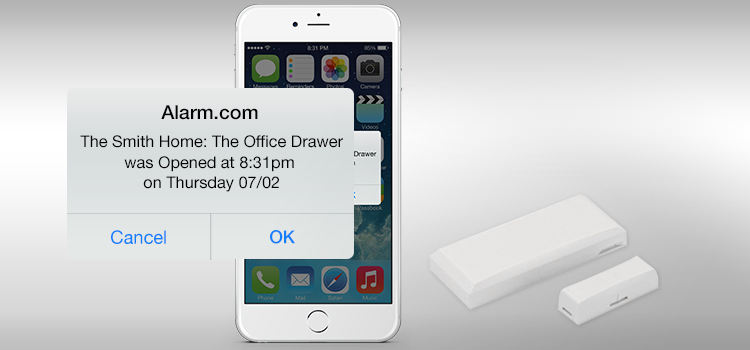 Protect valuables: Place one on a safe at home or on a jewelry box so you always know if they're being accessed or if you left it open.

Protect your yard: a contact sensor can alert you if someone opens the gate from your yard to the street, or accesses your pool.

Protect food: a contact sensor can alert you if your freezer drawer is open and your food is in danger of defrosting.

Triggering Connected Devices

As well as triggering alerts, contact sensor can trigger different devices in your Smart Home to act automatically by feeding real-time data back to your system. For example:


Thermostat setback: If a contact sensor indicates a door or window left open, Alarm.com's Smart Thermostat will automatically set back to save energy until the door is closed again.
Smart Lighting: A contact sensor on your yard gate can trigger your porch light to turn on if someone opens the gate after dark.

How do I get them?

Contact sensors are a component of our Smart Home Security systems and come with your security panel. You can add more to the system as well. . The best way to learn about all your options is to connect with an Alarm.com service provider today by clicking here.
Ready to go?
Alarm.com technology is sold, installed and serviced by licensed service providers near you.

Let's Get Started