90 percent of seniors want to stay in their homes as they age. Four out of five would prefer to stay at home even if they began to need day-to-day assistance. The challenge for families and caregivers is: how to empower independent living for as long as possible, without sacrificing peace of mind?

With our innovative technology, Alarm.com has the answer.

We've created a specialized smart home solution called Wellness. It's intelligent enough to monitor overall quality of life and provide a critical safety net. It's a 24/7 connection that keeps an eye on things to proactively detect changes in behavior, or life-safety emergencies.

 

Here's what makes our Wellness solution the smarter option for independent living:

Always-On Awareness

Protection for your loved one; assurance for you. Alarm.com's intuitive smartphone app, with real-time alerts, gives you a discreet, 24/7 connection that enables you to know about and respond to immediate needs quickly.

Wellness alerts you if there's a dangerous situation like an open door late at night, and provides the reassurance that a loved one is up and about during the daytime as expected.

Enjoy the peace of mind that comes with being in the know, without impacting your loved one's independence.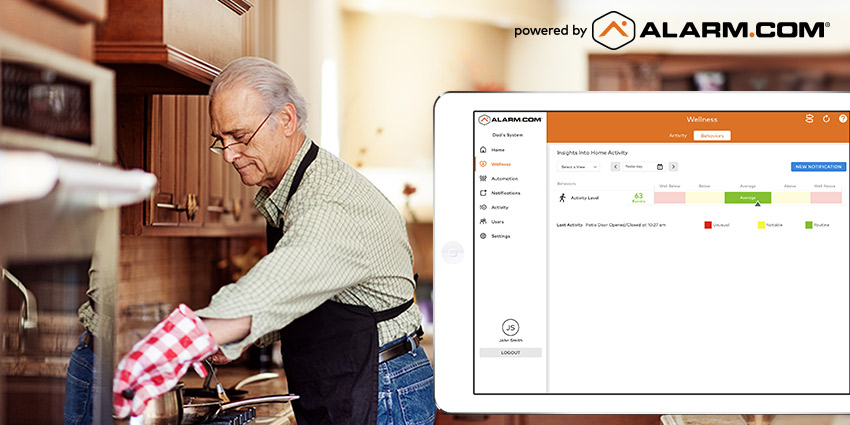 Live safe. Live well.
Experience total protection with customized, professionally installed security and a home that works intuitively to keep you safe.
Discover Alarm.com for Home
Quality of Life

Unlike an emergency pendant or other standalone devices, Wellness connects a broad range of sensors and devices around the home to monitor overall quality of life.

Machine learning algorithms analyze activity data to understand routines and patterns, detect changes that may indicate a risk or issue, and proactively alert loved ones and caregivers.

Unlike emergency pendants, Wellness uniquely reports changes in sleeping and eating patterns, bathroom visit frequency and medication adherence, as well as emergencies.

The solution connects security sensors, lights, locks, thermostats and video, as well as bed sensors, alert buttons and sensors for medicine cabinets and refrigerators, enabling discreet but comprehensive monitoring of the home.

Convenient Automation

Our Wellness solution also takes care of everyday tasks around the home. Easy rules and schedules automatically adjust lights, thermostats, locks and security. Your loved one doesn't have to remember to turn lights on or off, or lock the door every night.

Wellness is also compatible with the latest in hands-free voice control. With Amazon Echo and Google Home, it's easy and simple to control things around the home.

Homecare Providers and Senior Living Communities

Wellness' multi-unit management service can also help professional caregivers and community staff operate more efficiently. Data-driven insights keep the staff better informed of residents' immediate needs, and enable them to make custom recommendations that match the right level of care to each resident's long-term needs.

Want to know more?

Like smart home security, Alarm.com's Wellness solution is delivered through Alarm.com's nationwide network of authorized service providers. To find out more, visit our Wellness page here.
Ready to go?
Alarm.com technology is sold, installed and serviced by licensed service providers near you.

Let's Get Started