Welcoming children into your household is one of the most special and exciting times of life. It's also one of the greatest challenges you'll ever undertake.
Help will come in many forms: family, friends, the new social networks you'll make as parents. It also comes in the form of technology that makes the everyday work of parenting easier. From electric bottle warmers to space-age stroller designs, you'll soon discover technical fixes for every challenge.
Some of these are more valuable than others, and most technical fixes are specific to a short stage in your baby's development. A few, however, are versatile enough to address multiple parenting challenges and adapt to new situations over the years.
One of these is
smart home security
, a technology that protects your home and everyone in it. It's
hassle-free to install
and easy to expand with new equipment, making it an outstanding parenting investment that keeps on giving as your children grow.
1. The Newborn Stage: Comfort and Closeness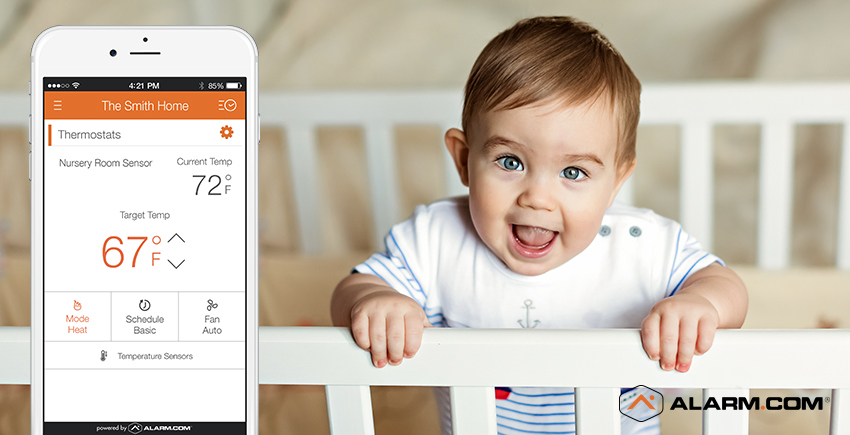 Having a newborn in your home is a time of wonder. You wonder at the magic of it all, and you wonder when you'll ever sleep properly again. Your focus is on keeping your baby happy and comfortable, and acting quickly if they're in distress.
Comfort starts with the Alarm.com
Smart Thermostat
and its
remote temperature sensors
, which help you ensure the perfect temperature wherever your baby sleeps.
Video monitoring
in your nursery helps keep you connected to your baby no matter where you are in the house. When they nap, you too can catch up on sleep without worrying.
Find out more:
Creating a Smart Nursery, Simply
Live safe. Live well.
Experience total protection with customized, professionally installed security and a home that works intuitively to keep you safe.
Discover Alarm.com for Home
2. The Toddler Stage: Activity Awareness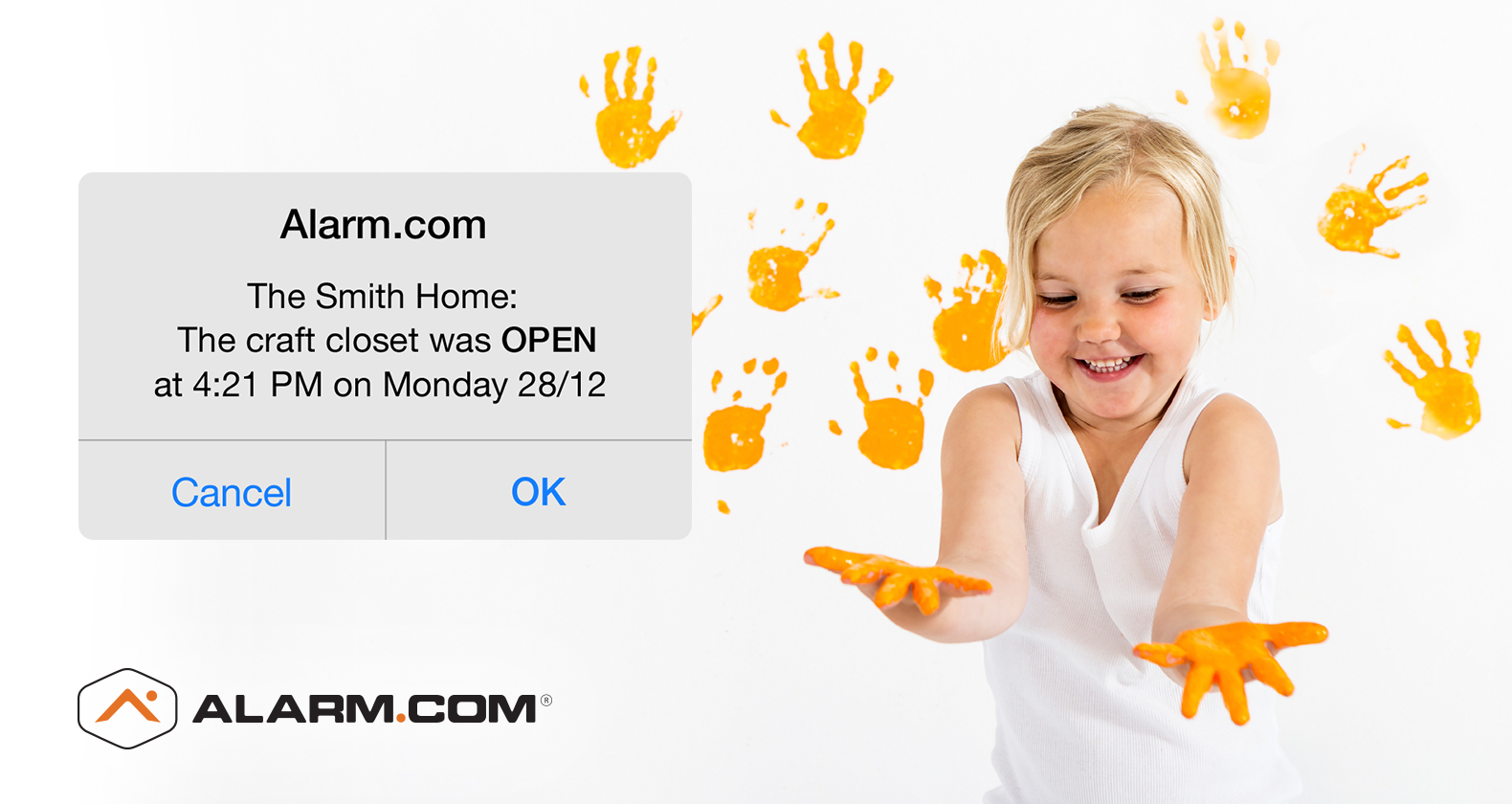 When those baby steps turn into toddling and exploration, childproofing everything within four feet of the floor is the name of the game.

You can't contain your toddler's curiosity—nor would you want to—but you can stay aware of what they're exploring by installing contact sensors around your home.

Thanks to instant smartphone alerts from Alarm.com when a sensor is triggered, you'll have a sixth sense for trouble—whether that's playing in the fridge or opening the bedroom door at 3am.

Find out more: All About Contact Sensors

3. The School-Age Stage: No Time to Waste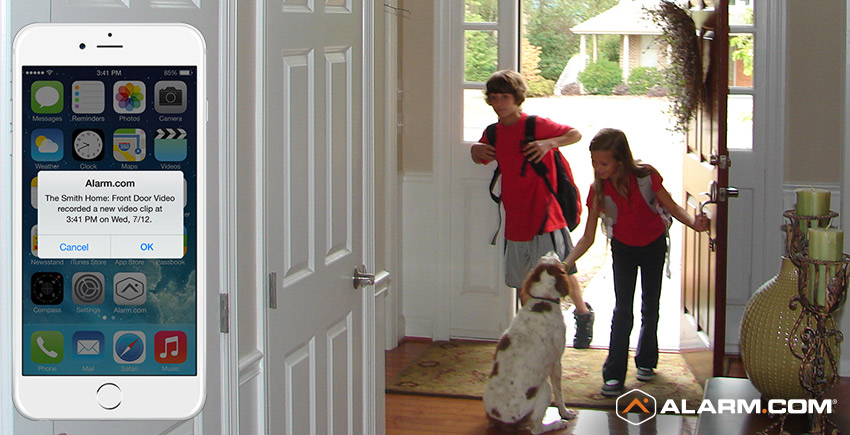 Life with school-aged kids is busy! Simply getting children out the door and off to school while preparing yourself for work can be an everyday adventure. Your smart home security system makes everything easier.

Securing your home is as easy as a single tap on your Alarm.com app, thanks to our new Scenes buttons. Should you ever forget, Alarm.com will send you a reminder.
You can also automate your home to take care of things. Geo-Services can do things like set your thermostat back when you leave home, using your smartphone's location to trigger proactive safeguards and other actions.

Find out more: How a Smart Home Gets You To Work On Time

4. The Teen Stage: Managed Independence



Teens want independence. You want to keep them safe, and your home secure. Your Alarm.com system keeps everyone happy with smart access control and easy ways to keep an eye on your home-alone teens.

It starts at the front door, where a smart lock and a video doorbell let your teens come and go as they please, while also letting you know when they arrive home and who else is visiting. When your teen starts driving, smart garage door technology will give you additional peace of mind.

Find out more: Why Teens and Parents Love Smart Home Security

5. The College Years: Go on Vacation!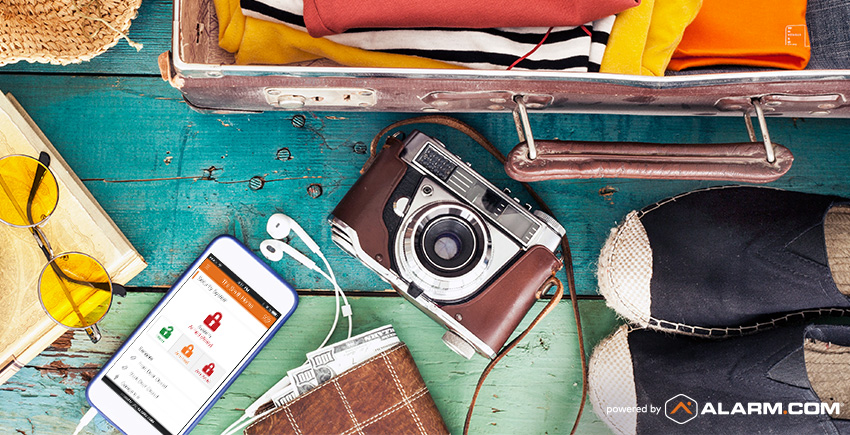 An empty nest is an opportunity to travel more. Whether you're visiting the kids at college, or exploring new places on your own, Alarm.com makes any trip more relaxing.

Professional security monitoring gives you peace of mind, while smart access control and video check-ins help you manage pet-sitters. If you're considering a second home now that the kids live elsewhere, Alarm.com will protect that too.

Find out more: Why Alarm.com Is a Modern Travel Essential

Are you new to smart home security?

With a full range of smart home devices, proactive safeguards for your home, and professional installation and monitoring, Alarm.com is the smarter choice for families. To discover more, click here.
Ready to go?
Alarm.com technology is sold, installed and serviced by licensed service providers near you.

Let's Get Started